Re-HaRe, Reaching the hard to reach
Project number: 2017-1-UK01-KA201-036665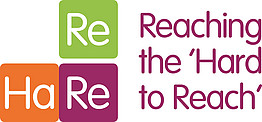 This project aims to develop effective strategies for including all children in lessons, particularly those who are hard to reach, such as migrants, refugees and disabled students. It will achieve this through the use of a model of teacher professional development that emerged from the findings of an earlier study funded by the EU. The model combines a well-established approach to professional learning, known as 'lesson study', with an emphasis on listening to the views of students, which is a distinctive feature of the model. Most importantly, the model facilitates dialogue between children and teachers in order to develop inclusive responses to diversity.
Read our newsletter:
1st newsletter, February 2017 (german / english)
2nd newsletter, July 2018 (german / english)
3rd newsletter, October 2018 (english)
Project partner:
Coordinator: Kiki Messiou, University of Southampton
University of Graz
Universität Algarve, Portugal
Universität Autonoma Madrid, Spain
Volksschule Schönau Graz, Austria
Volksschule Niva, Denmark
Agrupamento de Escolas Pinheiro e Rosa – Schule in Faro, Portugal
colegio publico aldebaran – Schule in Madrid, Spain
Project coordinator in Austria: Univ.-Prof.in Dr.in Barbara Gasteiger-Klicpera
Co-worker und contact person: Ass.-Prof.in Mag.a Lisa Paleczek, PhD, Mag.a Edvina Bešić, PhD, Julia Lederer, BA MSc
"The European Commission support for the production of this publication does not constitute an endorsement of the contents which reflects the views only of the authors, and the Commission cannot be held responsible for any use which may be made of the information contained therein."